Hello and Welcome to the Show Off Your Stuff Party!
This week I am showing off:
My t-shirt cardigan
My Tutu-shirt
Here is the run down:
1. Pay attention! There are 3 categories to link up:
pick one and go with it!
2. Add a link to your specific post, not the main page of your blog.
3. Please do not link up to something that you are just trying to sell.
4. Link to this party from your post so everyone can get in on the fun. You can just grab my button!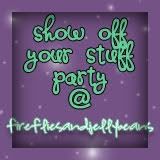 5. By entering your link, you are giving me permission to use any part of your post including pictures in a spotlight on Fireflies and Jellybean. (Proper credit and links will be given to you, of course!)
&
This post sponsored by:
brair.claire
specialize in fun, fresh and fabulous hair accessories.