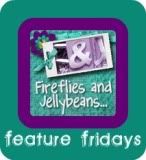 Hello Fireflies and Jellybeans readers! I can't wait to share this easy craft with you guys! My name is Joon and you can find my blog:
The Adventures of Ordy and Joon
!
To sum me (and the gist of my blog in a nutshell): I am a 20-something year old with a busy schedule and a love for crafts! I'm a full time law student, obsessed with my mutt, in love with my boyfriend (Ordy Boy) and I am addicting to crafts and home decorating! My blog is an assortment of all things crafty/decorative/thrifty!
I love this particular craft because it is SO SIMPLE and so versatile! You can find the craft step by step here: http://ordyandjoon.blogspot.com/2011/01/conversation-centerpiece.html
You can do this craft for ANY holiday just by swapping out the candy! (Candy Corn for halloween, jelly beans for Easter, etc...) Let's begin!
And all you need is:
Conversation Hearts
A Vase
A SMALLER vase that fits in the larger one
with enough space (half an inch) to create a wall
of hearts- Preferably the same height as the outer
vase
THAT'S IT! Oh, and amazing flowers your
love
picks
you up :)
I originally used the vase you see above in the picture
because I broke my OTHER vase I usually use and really had
a bee in my bonnet to just GET THIS THING STARTED...but...I
decided the shape of the bottom of the red vase rounded too
much (meaning more hearts being used as filler...) So, I
was resourceful, just like YOU can be!
Yep, I used a candle that was on it's last limb. The
straight down shape worked PERFECTLY. and it was the
perfect height.
The flowers in the candle jar :)
(Filling the small vase with water first is pretty
important, because if you did what I did before the
tutorial pics, you will spill water all over your hearts
while filling the smaller vase at the end. and you will get
soggy hearts. Like this:
upper right: soaking. sad. words 'melted' off
haha
Side Note: I tried to put all the sassy negative hearts facing the inside. I didn't want to see "YOU WISH!" on my hearts :) I like all the "CALL ME" ones showing!
I'd love to see a picture if you try this! It is SO ridiculously easy! AND AWESOME!
I would love for you to stop by
The Adventures of Ordy and Joon
and say "Hi!"
Want to have your tutorial featured here on Fireflies and Jellybeans?
Click HERE
for more details!
&