Are your ready to PARTY! I am so excited for you to SHOW OFF YOUR STUFF!
And while you are here... you might as well try to win this...
That's right! You can win a
$25 gift card to TARGET
!!
I know you all want it!
Let me introduce you to a company called:
Here's the dealio...
Deal-a-Day
website, with deals from
Target
Sweet Briar Home Decor
Frogurt
Platinum Car Wash
Incredible Pizza Company
Nail Port
Smoochies
and TONS more!
Mostly with daily deals that are 50% off!
They are Utah-based now, but have big plans to go national soon...
They are launching their new site on September 13th
... and all they need right now is people to sign up, to receive their emails!
Easy-peazy, right!? :)
And they can save you money on things that you were going to buy anyway!!
So... here's the 3 ways to enter to win the Target Gift Card:
1. Go to
Groopdealz
and enter your email address
2. Become a fan of
Groopdealz on Facebook
3. Follow
Groopdealz on Twitter
Leave a separate comment for each entry! Giveaway ends Wednesday 9/8/10
SO Easy! And the best part is...EVERYONE can enter, because Target is everywhere! So go sign up, now! :)
Now, on to the PARTY! Here is what I am showing off:
Now it is you turn:
Here are the rules:
1. Link up a post that you want to show off!
PICK ONE PLACE TO LINK UP YOUR POST: CRAFTS, DIY OR RECIPES... BUT PLEASE NOT MORE THAN ONE!!
Don't know where to put it... just pick on and go with it! : )
2. Add a link to your specific post, not the main page of your blog.
3. Please do not link up to something that you a just trying to sell. (If you are making it as a tutorial and selling in your shop as well that is fine.) This is not the place to advertise. Thanks :) Please don't make me be a meanie and delete these!
4. Link to this party from your post so everyone can get in on the fun. You can just grab my button!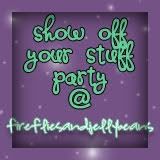 5. By entering your link, you are giving me permission to use any part of your post including pictures in a spotlight on Fireflies and Jellybean. (Proper credit and links will be given to you, of course!)
Don't forget to enter the giveaway!! Good Luck!
&