Welcome to the Show Off Your Stuff Party! The Place were we all get together and SHOW OFF OUR STUFF!!
This week I am showing off:
Little boy Rock n' Roll Shirt
My Flirty Apron
Flirty Aprons

is the sponsor for the Iron Crafter.
The Iron Crafter Round 3
secret ingredient is Knobs/Hinges... It starts on July 26th so start getting your projects ready!!
REMEMBER:
There are 2 places to link-up your projects!
One for crafts and DIY projects and one for recipes...
Here are the rules:
1. Link up a post that you want to show off!
PICK ONE PLACE TO LINK UP YOUR POST: DIY OR RECIPES... BUT PLEASE NOT BOTH!
2. Add a link to your specific post, not the main page of your blog.
3. Please do not link up to something that you a just trying to sell. (If you are making it as a tutorial and selling in your shop as well that is fine.) This is not the place to advertise. Thanks :) Please don't make me be a meanie and delete these!
4. Link to this party from your post so everyone can get in on the fun. You can just grab my button!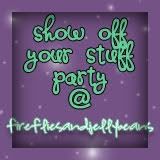 5. By entering your link, you are giving me permission to use any part of your post including pictures in a spotlight on Fireflies and Jellybean. (Proper credit and links will be given to you, of course!)
Recipes

&