WOOOOOOOOO HOOOOO! 210 link ups this week in the Show Off Your Stuff Party
Here are our favorites this week! Just click on the picture for the link!!!
Mod Podge mason jars + Solar lights = AWESOME from The Hand Me Down House
Too Cute cardboard animals from Leafy Tree Top Spot.
Chic TV tray makeover from Imperfectly Beautiful
Yummy marshmallow caramel treats from JanDee Crafts
ADORABLE reminder board from Crafty Batches
Mouth watering peanut butter bars from Sugar Bee
Wonderful wonky log cabin quilt from The Missing Piece
Darling Princess Leia hair piece from Sew Can Do
Beautiful fairy headbands from Those Northern Skies
Fabulous scrappy tote bag from Happy Lungs

Feel free to take our "FEATURED" button if you were featured today!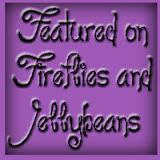 This post Sponsored by:

A great place for shopping finds, reading/movie lists, crafts, recipes, giveaways, daily life and much much more.
&