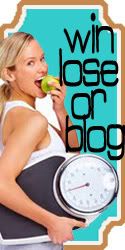 For today's Feature Friday and I so excited to introduce you to a new blog that I have been working on with 5 other FABULOUS bloggers:
Jill from Women Who Do It All
Holly from 504 Main
Lindsey from Fitness For the Rest of Us
Maria from Huff and Buff
Summer from Sumo's Sweet Stuff
What a great team to work with right!?! And we are all SUPER excited about it

Introducing:
Win, Lose, or Blog!
A blog to help us all stay healthy!
What does Win, Lose, or Blog have to offer you?
Want to be a contestant?
Each season of the challenge (lasting 8 weeks) we will choose eight contestants. This is your chance to win some MAJOR prizes! The "big loser" (based on percentage of body weight lost) will win one big whopper of a prize. Second and third place contestants will also win some great prizes. And everyone else will get something just for participating.

Just want to follow?
We have multiple health and fitness experts on our team who are going to be posting information, recipes, tips, inspiration and more. So come follow and get a little help living a healthier lifestyle.
Also, at the end of each season two followers will win a prize (worth at least $40) just for leaving comments throughout the season. And you know it will be fun to watch the competition play out and cheer on the contestants :) Go check it out!!! And spread the word!

Each comment you leave all season long counts as an entry for two great prizes!

Want to get a head start on those? Head on over to Win, Lose, or Blog and you'll notice that you can leave three comments for displaying our button on your blog and five comments for writing an exciting post announcing us to your friends. We want you to invite others to join the the fun and gain some motivation to live a healthier lifestyle. I hope to see you there! We've been working hard on this baby.

Go now, and check out Win, Lose, or Blog and let's all get healthy!!