So, There was HUGE interest in the Felt-House-Along! I am so excited!
As I have thought about this more, I have decided to add another week on to the Felt-House -Along and make it five weeks long. I wanted to give you a week to get supplies and make a plan and 4 weeks of sewing and putting it together. A good plan does wonders for a project so, I want to give it some time! I will have the Planning and Supplies post up next week sometime!
Here are some notes that I have for those of you considering:
Skill level: beginner (this should probably not be your FIRST project but if you can sew a straight line and cut out shapes out of felt I think that you are in!)
Table: You can use ANY rectangular table that you have! If you have a dinning room table that is rectangular that will work! The great thing about making it, is that you get to customize it!
Leave us a comment to let us know that you are joining and grab our button to spread the word!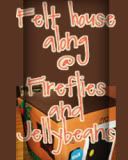 The Show Off Your Stuff Party is still going strong! Scroll down or click
here
!