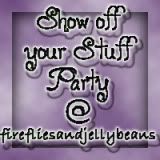 It is time of week agian! The time where we all get together and SHOW OFF OUR STUFF!
Last week had some AMAZING projects! here are a few that totally impressed me!
Personalized hand sanitizer @ Little Lizard King
Cute bulbs @ That's So Cuegly!
Snowy pine cones @ Cottage and Vines
Now it is time to SHOW OFF YOUR STUFF!!
Here are the rules:
1. Link up any post (old or new) to show off your stuff! It can be anything that you want to show off!
It could be pictures, a post about your fun family vacations, a craft tutorial you made, a craft you made from a tutorial, a rehab, redecorating a room in your house... and on and on!
2. Add a permalink to your specific post, not the main page of your blog.
3. Link to this party from your post so everyone can get in on the fun. You can just grab my button!