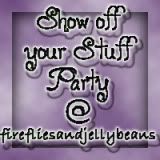 Welcome to another Show Off Your Stuff Party! Today I am showing off our new look for F&J!
Jeannine took the pictures for our header (Do you see the "F" and the "J"?!- pretty cool I think) and I put them together using Photo shop... I love PS! I also like the simple white background! As for the purple... There is just something about purple that makes me feel whimsical and creative!
If you ever wondered how we came up with our blog name... we are Fawnda and Jeannine... F and J... Fireflies and Jellybeans... there you have it! : )
I am excited to see what you got for me today! But first, I will show you my favorites from last week!
I think that it is so cool to have a wreath of REAL greens on your door!
Cottage and Vine
shows us how to make one from Boxwood!
Little Lizard King
shows us how to make the A-DORABLE birthday pennant banner!
Now Lets Party!
Here are the rules:
1. Link up any post (old or new) to show off your stuff! It can be anything that you want to show off!
It could be pictures, a post about your fun family vacations, a craft tutorial you made, a craft you made from a tutorial, a rehab, redecorating a room in your house... and on and on!
2. Add a permalink to your specific post, not the main page of your blog.
3. Link to this party from your post so everyone can get in on the fun. You can just grab my button!