Welcome to Day 4 of My Favorite Things week! A week where my FAVORITE blogger are blogging about their favorite things!

Today we have Becca from Blue Cricket Design! I LOVE LOVE LOVE her blog... so many great projects... so little time! If you have not been to her blog you have to go and check it out!
____________
Hey friends!Becca here from Blue Cricket Design! I am thrilled to be able to share with you one of my favorite tutorials! It was hard to pick just one! Be sure to come visit me over on my blog to see my collection of Project Ideas, Sewing HowTo's, Recipes, Decorating Tips and more!

And with Christmas upon us I was sure to pack my blog full of Holiday Projects!
Christmas Pop Top Cans
Christmas Count Down
Paper Mache Ornaments

In the mean time please enjoy this Fun Adult Skirt revamp I came up with...

Don't you hate it when you hit a Clearance sale and all that's left is Size XXS or XXL!!!!
What's a girl to do!!!???!!!
Well think out side the empty rack and get creative!

While at my favorite Clearance Center DOWN EAST CLEARANCE CENTER I found two XL
Skirts! Ahh shucks!!! Not a single small size in sight! But just before I threw them back my mind started doing what it does best!!!

Could it be!?! Is there something adorable just waiting to be created!!!

DING! DING! DING!!!!!

PRESENTING:

Adult skirt revamped into this Adorable Little girls Dress!
(and could it be any easier!!!??)
Photobucket src="http://i28.photobucket.com/albums/c201/rdulgarian/DSC03397.jpg">


Photobucket src="http://i28.photobucket.com/albums/c201/rdulgarian/DSC03402.jpg">

Let's Check out the before!

Super cute Down East Basic Skirt but a titch too big for me to enjoy...or is it!!!??
(Check the bottom of this post to see how I even get a little love out of her!)
I picked up the last two skirts for $5 each! Not too bad huh!
Let's get this party started....
Put the skirt on your little cutie and pin it where you plan to cut. Be sure to allow a little space for seam allowance and a little extra room if you want it to last more then one season.
ALSO: be sure to take advantage of the already existing zipper!! This skirt had it sewn in on one of the sides so I was sure to cut off the opposite side! If the skirt has the zipper in the back just center it on your model and pin both sides showing where you'll cut!
To line up a perfectly angled cut to match the other side of the skirt, simply fold the skirt in half taking the zippered side and matching it up to your pin marking where you'll cut!
Follow the edge of the folded skirt with your scissors! Now you have a perfect
angle to match the other side!!!
Save that fabric you just removed...It's what we'll be using for the straps!
Now take your skirt section and fold it with right sides in. Sew a straight stitch down the length of the skirt making it a tube.
Finish the raw edge with a surging stitch!
And just like that your dress is nearly done!!!
Now moving onto the straps!
Using the piece of fabric you cut off, Cut out two strips. You can cut them as thick as you'd like and as long as you need . Measure your models shoulders to get an idea of the length you need. Remember, longer is always better! You can adjust them later!
Straps are simple! Fold your cut strip in half long ways and straight stitch up the edge. Turn the tube inside out! Press with an iron and add straight stitches up both edges to finish
the look and reinforce the straps.
Your nearly done!!!!
Put the dress on your model and pin the straps onto the front and back!
Sew them on using a straingt stich. I start at one side of the zipper and sew all the way across making it look clean and finished!
And ther you have it!!!!
A darling little dress any girl would love!!!
And look what else is "SEW" simple to do... take a large skirt in and enjoy it yourself!!!!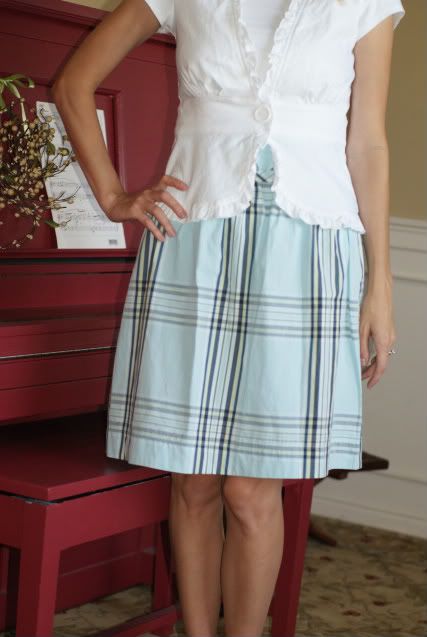 I told you it was easy!!!!!