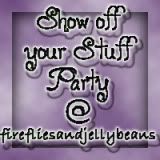 Happy New Years Eve! On the last day of 2009 let's show off our stuff! Show me what your got from 2009!
Here are some of our most popular posts from 2009!
What are some of your favorites! Show them off!!

Here are the rules:
1. Link up any post (old or new) to show off your stuff! It can be anything that you want to show off!
It could be pictures, a post about your fun family vacations, a craft tutorial you made, a craft you made from a tutorial, a rehab, redecorating a room in your house... and on and on!
2. Add a permalink to your specific post, not the main page of your blog.
3. Link to this party from your post so everyone can get in on the fun. You can just grab my button!