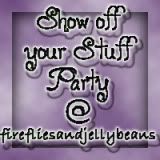 Welcome to the Show Off Your Stuff Party! I am so glad that you have come. I was a bit of a slacker this week and did not post a
creative
tutorial for you all. I promise more are coming. I just was a bit busy and choose to spend time with my son over blogging.
But this means that I am SUPER excited to see what you have got for me today! I am excited to blog hop on over and check out your stuff!
Last week we had some great posts linked up! Here are some of my favorites:
This cute
Dollhouse made from cardboard
at
I am Only 1 But I am Still One
These cool
chalk

boards
from
Life's journey to Perfection
Here are the rules:
1. Link up any post (old or new) to show off your stuff! It can be anything that you want to show off!
It could be pictures, a post about your fun family vacations, a craft tutorial you made, a craft you made from a tutorial, a rehab, redecorating a room in your house... and on and on!
2. Add a
permalink
to your specific post, not the main page of your blog.
3. Link to this party from your post so everyone can get in on the fun. You can just grab my button!