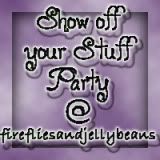 Happy Thanksgiving!
I hope that everyone, who is celebrating, has a great time and lots of turkey!
Things I am thankful for (in no particular order):
My Hubby - he is a great man who loves me very much!
My Son- he bring me such joy EVERY day!
My Family- their love and support have made me who I am today!
My Savior and Heavenly Father- who knows what is best for me and loves me!
My Blog - a place where I can be creative!
My Followers - "you like me! You really like me!"
Your Comments - they are like candy! I love them and eat them up!!
________________________________
In case you have some time between eating turkey and pie, we are still having our party!
Here are a few favorite linkers from last week:
Craftaholics Anonymous
made this BEAUTIFUL white burlap Christmas Wreath.
Testing 1 2 3
made this ADORABLE advent calender.
Here are the rules:
1. Link up any post (old or new) to show off your stuff! It can be anything that you want to show off!
It could be pictures, a post about your fun family vacations, a craft tutorial you made, a craft you made from a tutorial, a rehab, redecorating a room in your house... and on and on!
2. Add a permalink to your specific post, not the main page of your blog.
3. Link to this party from your post so everyone can get in on the fun. You can just grab my button!