I made these cute blocks for my cousin who just had her second baby girl. I love to give personalized gifts. This one is cute and easy!
Here is what you will need:
2 wooden blocks (I got mine from Micheal's)
scrapbook paper
ribbon
mod podge
craft glue
a picture of the baby
paint
sandpaper (optional)
stamp pad (optional)
1.) Paint your blocks your desired color. Mine are a really dark brown. I had a brown paint that I added black to until it was dark enough for me.
2.) cut out squares of scrap book paper to fit on your blocks. My blocks were 4 inch cubes so I cut out 3.5 inch squares of paper. I covered 3 sides on the bottom cube (Don't have to cover the bottom and I left 2 sides open for the name and birth date) and 4 sides of the top cube (I left one side open for the picture and I did not cover the bottom)
3.) Use Mod Podge to glue your paper to the block.
4.) I printed out the baby's picture on regular computer paper (in sepia) I also cut the paper down to 8.5 X 11 to fit into my computer to print out the baby's name and birth date using a cool font. You could also use stickers, stamps or hand write it too. I than cut them into 3.5 inch squares to fit on the blocks. I used mod podge to glue these on to the sides. Let dry.
5.) Mod Podge over all the sides of the blocks. Let dry completely.
6.) Optional distressing. I used sand paper to rough up the edges and corners of the block, I also sanded to scrapbook paper too. I did not sand the picture or sides I had the baby's name and birth date.
7.) I used some of my brown ink to antique the edges and paper. I was careful around the picture and the name and birth date.
I am linking to:
Mondays:
Tuesday:
Thursday: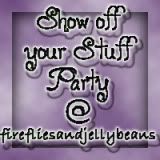 Friday:
And also: