The keyboard on our laptop totally wigged out one day. When I would press one key, two letters would type out, and some keys would not type out at all. The "I" Key did not work... but when I pressed the "U" key it would type "ui" so I would have to type the "u" key if I wanted an "i" and then delete the "u" . The "K" key would type "jk" and so on... NOT COOL! My WONDERFUL hubby called up Dell to tell them of our keyboard woes. To fix our problems, they sent us a NEW keyboard to install at no fee (Because it was covered under our warranty)
The keyboard came in this box.
When my son (20 months old) saw the keyboard he was so excited. He loves to push all the buttons. My Wonderful Hubby installed the new key board and gave the old one to our son, who was happy to play with it. I wanted to give him the full laptop experience so I made him his very own Babee Dell Laptop :
Here is how I made it:
Supplies:
Box with lid attached
Old keyboard
Black paint
Photos
Mod podge
silver marker
(ignore the hot glue gun... I did not end up using it)
1.)Paint the box black in the inside and outside. On the inside I did not paint where the keyboard was going to be since that was going to be covered up. Wait for paint to dry before painting the other side.
Inside:

Outside

2.) Using Mod Podge glue on your photos in a collage. This will be for the screen. My son loves to look at pictures of himself so that is what I put on. Wait for the mod podge to dry.
3.) Brush Mod Podge over the pictures to protect them.
4.) Glue the keyboard to the box. I have my keyboard on top of the foam that came in the box it was shipped in. I first used hot glue and that did not stick... so I need to try a different kind of glue... I think that i am going to try rubber cement.
5.) Use your silver Sharpie to design the top of the laptop lid. I copied my Dell Laptop. I used a ruler to outline the top. I wanted to use the "E" in Baby so I could match the "E" in Dell... But Hubby thought that "Babe" Dell sounded like it was for a hot chick, not a baby...
So I added another "E" to make it Babee Dell:
6.) I used my silver sharpie on the inside to outline the screen and label the laptop as my son's.
I found an old mouse (does the fact that I have a bunch of old computer parts at my house make me a nerd?) and tucked the cord behind the babee laptop so that my son could get the whole computer experience!
My Little King LOVES it!
Now when Mommy is typing at her laptop, Baby is typing at his! And the best part about it is.... It did not cost me a penny! I had all the supplies on hand! Woo Hoo!
I am linking to:
Monday:
Tuesday:
Wednesday:
Thursday: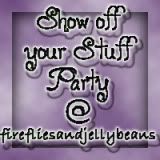 Friday: