Hello Everyone! Today we have a very fun and crafty lady -Brenda - from
Therapeutic Crafting
I am so excited for you all to meet her!
_____________________________
Hey hey! I am Brenda- AKA Brenbren. I am a huge fan of Fireflies and Jellybeans! I am so excited to be a guest blogger. This is my first time doing this! YIPPEE! There is a first time for everything.
I starting crafting/ designing when I realized it was therapeutic for me. I have struggled with severe depression since I had my little girl. Creating with my hands brings me so much peace. That is why I named my blog, drum roll please...............
Therapeutic Crafting
Creative, I know!
My favorite post is the
Reading Corner
. I created an area where my kids can read and I can read to them. I am an avid reader. SO this was a pet project for me.
To stick with the Halloween spirit, I really had a lot of fun decorating this year. I made a few Halloween decorations. Check it out
HERE
and
HERE
.
Last but not least,
Mother-daughter blankets
. We made the blankets right before she started her first round of chemo and radiation.
So, come visit me at
therapeuticcrafting.blogspot.com
I would love to get to know more of you. I would love for you to read my story of how the title for my blog came to be.
Thank you so much Fawnda for allowing me this opportunity to blog swap with you. Have a great day!
_____________________________
I will be posting the winner to our giveaway at 3 PM today so stay tuned for that!
Also you can still link up to our Show Off Your Stuff Party
HERE
,. You can also check out some AMAZING links!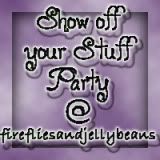 Interested in blog swapping with us? It is fun and easy! Just e-mail me at
firefliesandjellybeans@gmial.com
and I can tell you all the details!