I am excited for you to meet our next blog swapper!
But first I have some blog business that I need you to know:
1.) Don't forget that we have a
fabulous
giveaway going on
HERE
... be sure to leave a comment to get entered!
2.) Leah at
Life

According

to Leah
is having a raffle to earn money for t
hier
adoption. What is she raffling off? ---you might ask... Well- A beautiful set of 1 lunch bag and 2 matching snack bags made by yours truly! Since my son is adopted I knew I wanted to help out
their
family any way I could. So go there now and enter her raffle!
3.) Next thursday (10/29) is the Show Off Your Stuff McLinky party. Start thinking of a post you want to show off!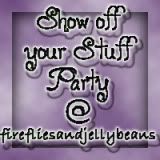 Ok
Enough business!
Meet Annette- the master mind behind
Live, Learn, Love
____________________
Hi! I'm so excited to be featured here on Fireflies and Jellybeans! Isn't this a great place to come for inspiration? Thanks for having me!
I am the wife of Derek and mom to two children ages 3 and 1.
Live, Learn, Love
features my own crafts, as well as my three year
old's
. As a former teacher, I love to teach my children and it's always fun to share about what we do together. I also share our struggles and triumphs of our daughter as she overcomes her speech disorder. In addition to crafting, I love to read. Since time doesn't always allow it, I often listen to audio books in the kitchen. They make washing dishes and cooking dinner so much more pleasant!
My children are my biggest crafting inspiration. During high school and college I was pretty creative, and art classes were a great outlet for me. Recently I have found my passion for creating again. I like paper crafts and sometimes even sewing. My only problem with sewing is the many battles my little machine and I have. Sometimes we just need a break from one another!
Come on over to
Live, Learn, Love
for a visit! Here is a taste of what you will see.
The Three Little Pigs Finger Puppets
Family Tree
Stitched Card

Thanks again for having me! This was lots of fun!
______________________
Annette is pretty great- isn't she?!?! Be sure to head over to
Live, Learn, Love
and see my post!
Are you interested in doing a blog swap with us? Just send me an e-mail and we will set up a date!
firefliesandjellybeans@gmail.com