today we are featuring Beth at
The Stories Of A to Z
. Beth has wonderful ideas of home decor. I also love her down to earth personality and her wit in her writing. She also has some fun DIY project and recipes too! Here are some of my favorite DIY's
Glass bead magnets in an Altoids tin
What a great gift idea!
Make your own monogram plate
I know there are a lot of tutorials out there for monogram plates but this one is my favorite! I am totally going to make this one!
No sew patio pillow tutorial
These pillows turned out FABULOUS!!
This post
is one of may favorites! I just started reading the Twilight series (only one book in-I can't wait to get the next one!) and I love how she connected these books to her faith in God!
Be sure to check out
The Stories Of A to Z
and leave some comment love for her!
Beth-be sure to take our Featured Button for your blog!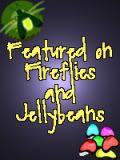 Do you have blog that you would like to see featured? E-mail us your submissions at
firefliesandjellybeans@gmail.com
.