amy a la mode
is next up to be featured here on our Featured Fridays. Amy not only makes wonderful projects, she also takes AMAZING pictures. You should just go to her blog to see the photos she posts!
But, while you are there check our some cute projects that she has done!
These little projects
are so inspirational... I really want to make a tissue case like the one in this post!
These beach bags
are lovely!
This I-pod case tutorial
is fabulous!
She also has a video on
hand quilting here
.
Be sure to stop by
amy a la mode
and leave her some comments on how great her blog is!
Amy be sure to take our Featured Button for your blog!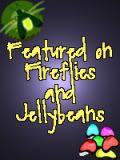 Do you have blog that you would like to see featured? E-mail us your submissions at
firefliesandjellybeans@gmail.com