We are featuring
Handmade Beginnings
, a fun blog with great ideas that are both fun and educational for kids! Eva has some WONDERFUL activities that I can't wait to try with my son when he is a little bit older. Right now she is working through the alphabet creating many wonderful things to do.
For H she made this
House
For D she made these delicious looking
dominoes snacks
For B she made these cute
banana tree snacks
I totally want to live at her house!
This
foot stomper
activity looks so fun!
And I know my son would love it if I made these
Refrigerator Mosaic
magnets.
If you haven't already clicked on a link... what are you waiting for?!?! Go and check out
Handmade Beginnings
! And leave some comments!
Eva, be sure to take our Featured Button for your blog!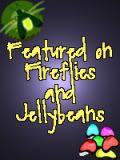 Do you have blog that you would like to see featured? E-mail us your submissions at
firefliesandjellybeans@gmail.com