If you haven't checked out
Ikat bag
yet, you really should! LiEr does amasing things with felt. She also does other wonderful project for kids. Her writing is very personable and down to earth, and has a bit of wit that I love. There are so many tutorials that I love from her site that I can not list them all but her are a few:
Pickable Pea Pods
Pickable Strawberries
Foam Dirt bed for planting
Be sure to check out
Ikat bag
and leave her some comments to show our love!
LiEr be sure to take our button for your site!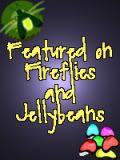 Do you have blog that you would like to see featured? E-mail us your submissions. Just use the "About us and Contact Info" link on the side bar!