Today's featured blog is
Homemade by Jill.
. The thing that has drawn me to Jill's blog is her quiet book. She had inspired me to make one for my little king. I am hoping to do it for his 2nd birthday, but after seeing all the great stuff that Jill has done it might be for his 3rd.
Here are some of the cool pages she had done:
Numbers page
Fish page
Farm page
She also has some great tutorials:
Spring Tote
Taggie Animals
Be sure to check out Jill at
Homemade by Jill.
and show her you stopped by, by leaving a comment!
Jill, be sure to take our Featured Button for your blog!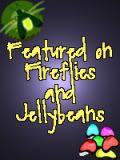 Do you have blog that you would like to see featured? E-mail us your submissions. Just use the "About us and Contact Info" link on the side bar!