Today I am featuring
Creation Held Captive
! It is Jeannine's photo/creative blog. Jeannine is a co-author here at Fireflies and Jellyebeans. She loves to take pictures and has recently starting to crochet! She doesn't know I am featuring it today so it will be my little surprise! : )
Here
are some Awesome pictures of her flowers, just as they are starting to grow out of the ground! These are some of my favorites!
Here
are some cute things that she made for me and my son!
Here
are some more amazing pictures around her house and neighborhood!
You also can check out her Esty Shop
JeannineBean
Be sure to check out
Creation Held Captive
! and show her some blog love by leaving a comment or two!
Jeannine, be sure to take our Featured Button for your blog!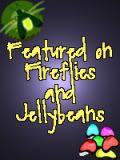 Do you have blog that you would like to see featured? E-mail us your submissions. Just use the "About us and Contact Info" link on the side bar!