We love to get to know our readers! Here are some ways to get involved here at F&J!

We have a Show Off Your Stuff Party Every Thursday (Starts Wednesday Nights)


Follow me on Pinterest!


We started a Fireflies and Jellybeans Flickr Group! We would love for you to join and post your pictures of projects you have made from our tutorials!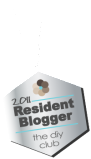 I am a DIY Club resident Blogger! Come join the the fun every month!